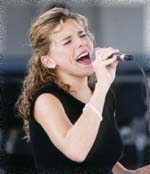 A little about me

Well, my story is sweet and simple. It seems like just yesterday, my life was full to the brim with my college career, family life, friends and working part-time jobs. Only in my wildest dreams did I ever entertain the idea of being a professional singer. Music has always been an important part of my life. As toddlers, my mom had my sister and I dancing in the living room to musicals like "South Pacific." Throughout my childhood, I can fondly remember nights that included the sound of my father playing his own songs on the guitar. Over the years, aside from singing, Ive played and experimented with a variety of different instruments including the guitar, flute, piano, bass-flute, banjo, Irish fife and even the bagpipes.

My first real public singing "engagement" was in the summer of 2000 (if you dont count singing the National Anthem in grade school and singing solos in church on Christmas Eve). I guess Mom was tired of my constant singing around the house so she coerced me into trying a karaoke competition for a $1000 prize at the County Fair. From the first moment I stepped up to the microphone in pre-qualification rounds I knew I had found my place in life. I have been singing and composing music for years so I guess it was a natural progression.

Since winning the Fair competition I have had the honor of being asked to perform as an opening act for Keith Urban, Darryl Worley, Doug Stone, Leroy Parnell, David Ball, and Billy Joe Royal when they were in the area as well as numerous Fair appearances around the Shenandoah Valley. In 2004, I was in the top fifteen in the nation for the television reality/talent show "Nashville Star". Since then I have had the privilege to perform with Buddy Jewell, Reba McIntire, Tracy Byrd, Phil Vasser, Andy Griggs, Chely Wright, Gretchen Wilson, Big & Rich, David Lee Murphy, Rachel Proctor, Jeff Bates, John Berry and Trace Adkins. What a fast and furious time this has been and the rest (like the many songs dancing through my heart and my mind) has yet to be written...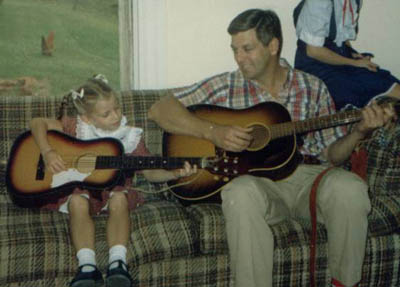 Guitar pickin' with Dad at age 5